Here are some pictures of my Opa that passed away last October shortly before his 87th birthday. He was a member of the 6. Kompanie, II Bataillon, Leibstandarte "Adolf Hitler" starting in 1939. He survived the war, being wounded 6 times, with one bullet going through his head and one bullet that stopped just outside his heart, which remained to the day he died. Some notable people in his early chain of command were SS Untersturmführer (later Haupsturmführer?) Rolf Möbius and SS Untersturmführer (later Sturmbannführer) Ralf Tiemann as Zugführer, SS Hauptsturmführer (later Obersturmbannführer) Rudolf Sandig as Kompaniechef and SS Hauptsturmführer (later Brigageführer und Generalmajor der Waffen SS) Wilhelm Mohnke as Bataillon commander.
The pictures are as an SS Unterscharführer in 1943, which was the last time he was home until the end of the war. Most of his pictures and documents showing his membership in the Leibstandarte were mostly burned, cut up or hidden away to protect my family after the his capture through the Americans taking his father hostage and his subsequent escape from the American camp he was interned in (which many did not survive). He had to spend 5 years in hiding until the Waffen SS no longer had 'criminal' status.
This one is the one I carried with me all the time, while I was in the service.
This next picture is a Hochzeitsfoto:
This last picture as an SS Unterscharführer is with my Oma:
As I was going through my pictures, I did not realise that one was already in my computer. This picture was during 1940 when my Opa and two of his brothers all had leave at the same time. His youngest brother also became a soldier at the age of 15 in 1945.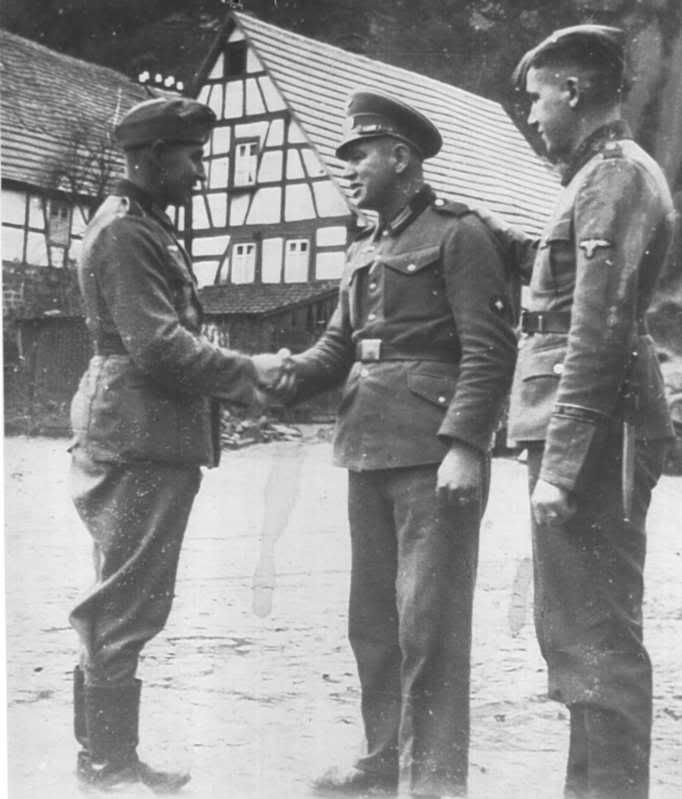 His oldest brother on the left died during the invasion in Normandie.
Hope you enjoyed a little of my family's history.
Cheers,
Michael