News article -
https://www.warhistoryonline.com/war-ar ... ction.html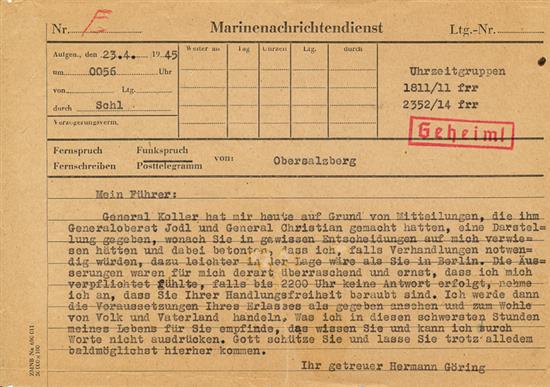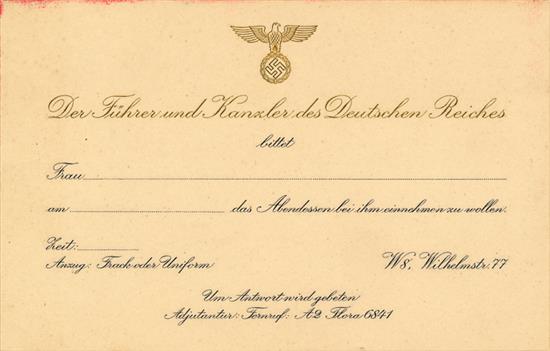 One of the most historic messages of World War II, Martin Bormann's copy of the telegram sent by Hermann Goring to Adolf Hitler advising him that within 24 hours Goring would take control of the German government.
This telegram would mark the beginning of the disintegration of Hitler's administration and the ultimate downfall of his government. The document, an original carbon prepared at the time of the receipt of the wireless message, is on a 8 1/4″ x 5 3/4″ Naval Intelligence Division form as that radio channel was the only one still operating at that late date.
It bears a red
"Secret!"
stamp at upper-right and shows the time of receipt as 0056 hours, April 23, 1945. It reads in full:
"My Fuhrer: General Koller today gave me a briefing on the basis of communications given to him by Colonel General Jodl and General Christian, according to which you had referred certain decisions to me and emphasized that I, in case negotiations would become necessary, would be in an easier position than you in Berlin. These views were so surprising and serious to me that I felt obligated to assume, in case by 2200 o'clock no answer is forthcoming, that you have lost your freedom of action. I shall then view the conditions of your decree as fulfilled and take action for the well being of Nation and Fatherland. You know what I feel for you in these most difficult hours of my life and I cannot express this in words. God protect you and allow you despite everything to come here as soon as possible. Your faithful Hermann Goring"
.
"https://www.warhistoryonline.com/?attachment_id=95952"
The document bears a long, clean vertical tear from the bottom to about 1″ below the top margin. It has been repaired with archival tape on verso, but an old repair has slightly affected five typed letters.
Here Goring, safely ensconced at Berchtesgaden, puts into play a secret June 29, 1941 decree in which Hitler ordered that should he become incapacitated, kidnapped, or killed, Goring was to assume the reins of power. Martin Bormann, who controlled access to Hitler and detested Goring, seized upon this message as evidence of "treason" and an attempt to launch a coup d'etat. While Walther Hewel, Joachim von Ribbentrop's liaison, attempted to justify Göring's action by saying the bunker's communications system could fail at any time and thus sever the command structure, Goebbels reinforced Bormann's argument by agreeing that it smelled of a coup.
According to Albert Speer's account, this telegram, very likely the exact copy presented and read to Hitler, initiated a major crisis in Hitler's psychological breakdown which precipitated the political disintegration of military command and control. Upon learning of other communiqués between Göring and other officers which referred to his invocation of Hitler's secret testament, Hitler flew into a rage. On April 25, he sent a telegram to Göring telling him that he had committed "high treason" and gave him the option of resigning all of his offices in exchange for his life. Bormann also ordered the SS in Berchtesgaden to arrest Göring. On April 28, Hitler discovered that Heinrich Himmler was trying to discuss surrender terms with the western Allies. He ordered Himmler's arrest and had Hermann Fegelein shot. Goring's telegram and ensuing activities were remembered by Hitler until his end – his last will and testament dismissed Göring from all of his offices and expelled him from the Nazi Party.
In July, 1945 U.S. Army Capt. Benjamin M. Bradin entered the remains of the Fuhrerbunker, gathered an armful of letters, telegrams and other "souvenirs" from a desktop and dumped files within, and brought them home to South Carolina where they rested unexamined in a bank vault until about 1958. At that time, Bradin's son, future Col. James W. Bradin, was a student enrolled at The Citadel, the prestigious South Carolina military school. The younger Bradin was much impressed with his history professor, Dr. Robert Rieke, who was fluent in German and had served on the military staff of the Citadel's president, Gen. Mark Clark. Bradin brought some of the Bormann papers to Rieke for examination and translation.
Rieke urged the young student to use their contents in his senior thesis, and at some point thereafter, the "Goring Telegram" and a Hitler printed invitation (included in this lot) were given to him as a token of thanks for his assistance. In 1978, Rieke gave the
"Goring Telegram"
and invitation to our consignor who had been his devoted friend, student, and confidante and would remain such until the end of the professor's life. The telegram remained in his safety deposit box while our consignor was on a 22-year sabbatical as an independent scholar at Oxford.
Accompanying his gift, Rieke included a text briefly describing the telegram and how he obtained it, upon which he wrote our consignor's name at the top as recipient, and noted:
"The original telegram is in FRAGILE condition"
. We, as well as our consignor, later contacted Col. James W. Bradin who recalled giving the telegram and printed invitation to Dr. Riecke while at the Citadel but declined any further involvement due to personal reasons. He also mentioned that he had shared copies of the documents with various "scholars".
In the interim, controversial historian David Irving obtained copies of some of the Bormann notes, letters and documents and cited Bradin as being their source. These documents, all authentic, were used in Irving's
"Goring A Biography".
Provenance included with these items: Prof. Robert W. Rieke's letter of provenance with his pencil notes at top; his son Peter Rieke's notarized letter attesting to the fact that the handwriting on his father's letter of provenance is authentic; our consignor's very detailed notarized letter of provenance; a photo of Dr. Rieke, copy of an inscription in his book to our consignor, and the text of our consignor's eulogy delivered at Rieke's funeral. A most important document of great historical importance. Two pieces.
Estimate $ 15,000-20,000
---------------------------
Looking for all relevant info & items on WW2 German U-boats in Singapore and Asia for my research.
http://monsun-uboats.blogspot.com/